Rss feed
Aurora Fire Fighters Statement on Elijah McClain Indictments
Saturday, 04 September 2021
Our thoughts and prayers go out to the family of Elijah McClain. We are aware of the serious charges brought today by the Colorado Attorney General. Multiple previous investigations into this matter have cleared Aurora Firefighters and we stand by the legal process moving forward. It should be noted that Aurora has over 400 professional fire fighters who have dedicated their careers to keeping our community safe.
Virtual Fill the Boot for MDA
Wednesday, 04 November 2020
Friends and Fam, This is week 3 of 4 of our Virtual Fill the Boot campaign for MDA. Please share our social media campaign on Facebook or by email. https://www.facebook.com/donat... You may also refer folks to our MDA webpage, https://filltheboot.donordrive... Those donating $20 or more, will be entered to win this Stihl FS56RC trimmer. Thanks again and good luck. (Winner must pick up in Aurora.) Sincerely, Dave Hamam C-Shift VP, Comms & PR Aurora Fire Fighters L1...
Virtual Fill the Boot (cont.)
Friday, 23 October 2020
Members, friends and family, THIS IS A CALL TO ACTION. Action that completed with a few simple clicks and at no cost to you. We really didn't get that many shares on social media, and we're asking again to please share our MDA posts once/week for the next (now) 3 weeks. THANK YOU TO THOSE THAT DID SHARE AND MORESO TO THOSE THAT DONATED! Here's additional information you'll be seeing on our social media now. If you're not on social media, please email to your friends and family. Remember,...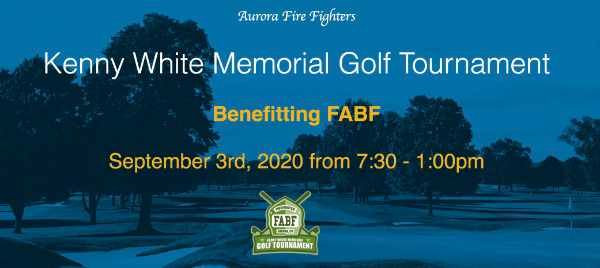 Grab your spot! Kenny White Memorial Golf Tournament Sept. 3rd, 2020 Registration now open!
Friday, 07 August 2020
Join us September 3rd, 2020 at the Saddle Rock Golf Course for the Kenny White Memorial Golf Tournament. This years event will be modified slightly to accommodate Covid-19 restrictions, but should be a great afternoon for those who come out and support the FABF. Registration is officially open, so secure your spot today. Corporate sponsors are needed and appreciated. Details and registration link scan be found on our event page - https://aurorafirefighter...
Children's Hospital Toy & Other Upcoming Events
Tuesday, 14 April 2020
Members, Hello All, Please see the message below from Capt. Nathan Geiger regarding the 2019 Children's Hospital of Colorado Motorcycle Toy Run being held on December 8th and put it on your social calendars!! Staging is at the Aurora Mall beginning at 08:00, next to Sears Department Store. The holiday season is fast approaching and that means it is time for the 2019 Children's Hospital of Colorado Motorcycle Toy Run! AFR, Local 1290 and the Aurora Firefighters Chapter of Wind and Fire...
Eboard Retreat and Broncos Invite
Tuesday, 14 April 2020
Members and Esteemed Retirees, The L1290 EBoard will be holding meetings all day this Sunday the 8th at our union hall and CPFF Event Center (12 Lakeside Ln, Lakeside, CO). The Broncos game will be shown on TVs all throughout. You are all hereby invited to join us for the game. We will be available all day to discuss new and old union business. We also welcome our retirees to impart some of their wisdom or just "spin some yarn", as they say! The EBoard will be meeting all morning, aft...
Cmdr. Hunter Hackbarth Retirement Party
Tuesday, 14 April 2020
Members, retirees, family and friends of Commander Hackbarth, Many of you have heard by now that after nearly 25 years of service to Aurora Fire, Commander H. Hackbarth will be moving on to peruse another Chief's position with South Adams County Fire. For many of us, his departure signifies a huge loss of true leadership, knowledge, passion and mentorship within our organization. We would like to invite all friends of Hunter Hackbarth to his retirement party while we wish him continued succes...